Networks and Technology Evolution​​




NetSci 2016 Satellite,


Monday, 30 May 2016, Se​oul, Korea

​​
Scientific Evolution in Digitized Books, Modeling, and Future Perspective
Pan-Jun Kim
​

Asia Pacific Center for Theoretical Physics, Korea

---

The quest for historically impactful science and technology provides invaluable insight into the innovation dynamics of human society, yet many studies are limited to qualitative and small-scale approaches. Here, we investigate scientific evolution through systematic analysis of a massive corpus of digitized English texts between 1800 and 2008. We developed a mechanistic model to account for the observed results, indicating that slowly-but-commonly adopted science and technology surprisingly tend to have higher fitness than fast-and-commonly adopted ones. Our data analysis combined with mechanistic modeling sheds light on unbiased and quantitative analysis of scientific evolution in society. Here, I will discuss some issue between humankind and technology in the future.
Powered by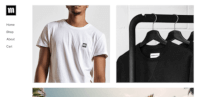 Create your own unique website with customizable templates.